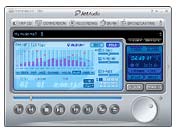 The JetAudio 5 Multimedia Player is one of the newest software all-in-one jukeboxes to come out. Like many of the other jukebox apps, JetAudio 5 can rip music from CDs, manage your music catalog and play it back. I'm sure many people will download the JetAudio Player and give it a try because it's new and it does have a pretty cool interface, but many will be interested in its support of a variety of relatively new formats, such as FLAC (Free Lossless Audio Codec), Ogg Vorbis and MP3 Pro. Surprisingly it also supports Windows Media Format, Real Media, DiVX and APE files. No wonder it's a whopping 17 mb download.
The basic version (which is free) does permit ripping into a variety of formats but not into MP3 or MP3Pro - for this you need the Plus version which will run you $29.00. One interesting feature is the inclusion of a File Convert, which allows you to turn your FLAC files into Wav or your Wav files into MP3 or MP3 pro files. For any file conversion involving MP3 or MP3Pro you will need the Plus version.
JetAudio does not yet have the community of users like Winamp - so there aren't any cool skins or visualization plug ins for the application. Also, JetAudio does not have any of the services that you might be used to, like an online media guide or streaming music service. However, if you are looking for pure functionality you may want to consider checking JetAudio 5 out. Compared to MusicMatch, Winamp or Windows Media Player it supports more file formats and gives the user more flexibility. The ripping performed better than or equal to any of the jukeboxes, however, we did not put it through the paces with respect to protected CDs. Testing it against one DRM-protected music CD it was able to successfully rip the content. One drawback we found was the interaction with the Internet database for song information was a little clumsy. Plus it isn't as easy to edit existing metatag (or ID3V2) information as it is with some other jukeboxes. If you are looking for portable device support you will have to wait or use another player. An advantage JetAudio has over most other players on the market is that even the basic version allows you to burn CDs.
Another cool feature that JetAudio 5 has the ability to crossfade between songs. This is a simple feature that all players should have in the future because once you use it you will not want to go back to playing songs with pauses in between.
All in all, we were impressed by this offering from the US subsidiary of Cowon Systems, a Korean company that makes software and digital audio hardware. I have a feeling these software applications are going to continue to get better and they may be around for a while. In our book, its worth checking out if not buying. It gets a 75 out of 100.
A few months ago Justin Frankel, the creator of Winamp, released a new type of file sharing software called "Waste". The writers of this magazine were anxious to review "Waste" but have not been able to obtain a copy. Also, the ominous warning posted on the Winamp website has pretty much scared us off from trying any further. Take a look at this warning. Someone definitely doesn't want this software out there.
Reprinted from http://www.nullsoft.com/free/waste/
[Nullsoft is owned by AOL Time Warner and is the Company behind the Winamp software]
"NOTICE OF UNAUTHORIZED SOFTWARE

An unauthorized copy of Nullsoft's copyrighted software was briefly posted on this website on or about Wednesday May 28, 2003. The software was identified as "WASTE" (the "Software") and includes the files "waste-setup.exe", "waste-source.zip", "waste-source.tar.gz" and any additional files contained in these files.

Nullsoft is the exclusive owner of all right, title and interest in the Software. The posting of the Software on this website was not authorized by Nullsoft.

If you downloaded or otherwise obtained a copy of the Software, you acquired no lawful rights to the Software and must destroy any and all copies of the Software, including by deleting it from your computer. Any license that you may believe you acquired with the Software is void, revoked and terminated.

Any reproduction, distribution, display or other use of the Software by you is unauthorized and an infringement of Nullsoft's copyright in the Software as well as a potential violation of other laws.

Thank you.

Nullsoft"
XPlay [Transfer music to your iPOD in Windows]
Winamp [Still the simplest and best of the music applications]
RealNetworks Media Player [plays back Real streaming audio and video files]
MusicMatch [probably the best multi-function application]
Windows Media Player [Ships with most Microsoft OS computers]
Top File Sharing Apps as rated by Zeropaid.com
1. xMule [Linux]
2. KazaaLite [Windows]
3. Shareaza [Windows]
4. Freenet [Linux & Windows]
5. Emule [Windows]
6. Limewire [Mac, Linux & Windows]

Coding Workshop Ringtone Converter
Polyphonic Ringtone Converter 1.11